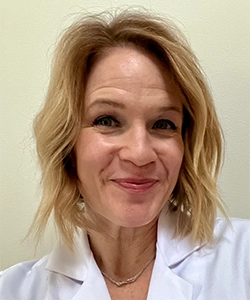 "The reason I became a nurse practitioner was because of how we were taken care of and all the care that my son got. One of the most important things I love is dealing with the families. I really do. Because every day, I never forget that I was on that side of the bed first." – Amy Lynch, Neonatal Nurse Practitioner MS Degree, Graduate Spring 2022
There's Nothing Better Than Making a Difference
Amy Lynch is passionate about making a difference. Having completed the Neonatal Nurse Practitioner (NNP) online MS degree at University of Connecticut (UConn), she has recently stepped into her new role as NNP at Duke University Hospital. Amy is excited about the many doors that have opened from earning this degree – and she is eager to share her knowledge and understanding in ways that will make the profession better for everyone.
Inspired by gratitude
Amy's career pathway to Neonatal Nurse Practitioner was first inspired by her own experiences, when her son was born prematurely, at 27 weeks, and spent two months in the Neonatal Intensive Care Unit (NICU). This experience has had lasting effects: "The reason I became a nurse practitioner was because of how we were taken care of and all the care that my son got. One of the most important things I love is dealing with the families. I really do. Because every day, I never forget that I was on that side of the bed first."
When her son was still an infant, Amy left her accounting career and returned to school, earning her AA in Nursing from Suffolk Community College in 2011. Since then, she has devoted her entire nursing career to working as a NICU RN, including five years as Charge RN on the Pediatric & Neonatal Critical Care Transport Team in Las Vegas. Simultaneously, she went back to school, earning her BS in Nursing from Duquesne University in August 2019, and more recently, earning her Neonatal Nurse Practitioner MS from UConn in May 2022.
From challenge to creative ways of learning
For Amy, UConn's Neonatal Nurse Practitioner online MS degree was an easy choice, especially after it was highly recommended by her colleague. There were several factors she found appealing: the way the program was structured, the small class sizes, and the flexibility to begin the program in January rather than waiting until August. Amy also credits her decision to her exploratory conversation with Dr. Sandra Bellini, adding "Dr. Bellini was probably the reason I wanted to come to UConn.
Just after Amy began the program in January 2020, the COVID-19 pandemic struck, presenting unexpected challenges. While all coursework is delivered fully online, traditionally, there are two required on-campus visits to facilitate simulation experiences. Suddenly, these on-campus visits were not an option. "The whole world shutdown. So we had to do everything virtually, which was pretty crazy. It forced people to come up with creative ways of learning. You had to videotape yourself doing different scenarios and come up with different ideas, think outside the box. I thought it was very inventive." Despite navigating these challenges, Amy graduated on schedule in May 2022. She credits her success to the support of the faculty. "All the professors were so great at UConn. They were just super helpful to us, very supportive. I think everyone had to just come together." Amy felt grateful to finally meet her cohort and faculty at their in-person graduation ceremony.
Learning through partnering together
While initially apprehensive, Amy found collaborating with her peers on group projects rewarding and pivotal to preparing her to work as an NNP. "In the beginning, I think it was difficult getting used to doing everything in an online group environment with people all over the country working different shifts. By the end, we were used to it, because for every class, everything was a group project. In the beginning, everyone was like 'oh my gosh, why does everything have to be a group project?' And the professors would tell us, 'Well, because guess what, when you graduate, everything you do is a group effort. You're working with other providers – physicians, specialists, other nurse practitioners – and you have to work together. You're partnering together." For Amy, the skills she learned through this approach have proven invaluable to her work as an NNP.
Amy also appreciated the insights gleaned through interacting with her peers via the HuskyCT/Blackboard online discussion forum. "Just seeing how people think of things in different ways would really open you up to learning things that you may not have necessarily thought. It really made you broaden your horizons and see that there are a lot of ways to get to the end point. These are all things that we have to do in the real world."
Embryology – the diamond of the classes
For Amy, there was one course that shined even more brilliantly than the rest: NURS 5350 – Advanced Embryology and Neonatal Physiology, taught by Dr. Michele Beaulieu. "It's fascinating to me. And I know some schools do not require embryology as a separate course. I think they rope it into some of the other classes and they follow along the embryology lines. But we had a specific embryology course, and I loved that class. It was really difficult, but it's so fascinating to start from the very beginning. And then as you watch the development, it's so crucial to what you're doing as a nurse practitioner. Understanding the things that are related at the same time of development effects so much of what we see. When you come into the delivery room or you're seeing a baby at bedside, if you see one defect, then you have to look for X, Y and Z, because this defect can mean everything down the midline can have a problem. That class put all the pieces together. The embryology class was like the diamond of the classes. It was my favorite."
The understanding Amy gleaned through the embryology course has been essential to her work educating families. "I feel like it was the key to being an NNP. You need that basis to be able to speak to the issues that we see in the population we have. Edge of viability used to be 24 weeks and now it's 22 weeks. They're supposed to be in uterus; they're not supposed to be here yet. You have to be able to talk to that in a way that families can understand. Embryology taught me how to try to explain that as a provider to parents."
Lasting connections
Despite not meeting in-person until graduation, Amy is grateful for the meaningful connections forged among students. "Our small groups were really close. We did presentations together. We would carve out time and facetime each other. I think it worked well. You had to figure out a way to make it work. It's such a nice community. I think we're all still in contact." Amy is especially excited that one of her peers, who became her best school friend, will soon be joining her as an NNP at Duke. "She was my best buddy. I never met her in person until we graduated. But we would facetime every week and we would work on projects together. It was all facetiming and zooming, group projects, and using google docs. It was pretty crazy."
Amy also forged meaningful connections with her professors, especially Dr. Valarie Artigas. "All of them were great. I had a special bond with Dr. A. and had her for multiple classes. I was constantly in touch with her. I still talk to Dr. A all the time, now as a colleague. It's wild to go from being the student to being a colleague."
Becoming colleagues
A key strength of the program for Amy was the expertise and support of her professors. "They were just amazing people. All of the professors went through the same background that we had. NICU is so specific that they all have stood in the shoes that we were standing in. They have the wisdom of experience behind them and have traveled that same pathway." In addition to the wealth of their experience, Amy appreciated the depth of their support. "They made us feel like we all are in the same boat – that they were not just our professors. They made you stand up and say, we will be colleagues. And they were raising you up to that level to see yourself at that level and not handholding."
Amy is especially appreciative that this depth of support and connection has continued beyond graduation. She explains, "They really did train us and prepare us to come out and be successful and have a pride in what we were doing, and have a knowledge base, and have that group of people you could bounce things off of. It's not like we graduated and said goodbye. They are still there to guide us into our first positions and talk about our goals.
Pulling others along with you
For Amy, becoming an NNP carries with it the responsibility to teach others and uplift the profession in the process. As she explains, "When you go on and further your education, now you are in that hierarchy that can pull others along with you by teaching others. I know that everyone at UConn really believes in that, and they made us feel like that the whole time. They told us, 'You are going to make a difference. And by furthering your education and by teaching and by doing research, you're going to make the profession better for everyone that's in it.'"
Having now accomplished that goal, Amy encourages other nurses to take that leap. "As a provider, once you get that master's degree, you have more insight into the bigger picture. You have been at the level of a bedside nurse and now you understand the evidence, the medicine, the physiology, and the reasons behind why we're doing things. It just makes it so much better for everyone: for the patient, for the family, for the environment you're working in…. What we need is a group of people like us that are pulling people along with them."
Opening doors
Looking toward the future, Amy is excited to pursue her doctorate, but has decided to wait until her son, now 16, graduates high school. She is grateful for the many possibilities now open to her. "With this degree, there's just so many different opportunities. Becoming an NNP, I feel like for the rest of my life, there's always going to be a door open. There's so much you can do. There's research. You can find one thing that you love, and you can become an expert on it. Then you can teach others. And you can speak at engagements. And you can write papers. To me, that's pretty fascinating."
Reflecting on her educational journey, Amy shares, "A lot of people think it's too hard to go back to school. It is very challenging, but it's worth it. When you see what you do makes a difference, it's so rewarding. There's nothing that can make you feel better than that."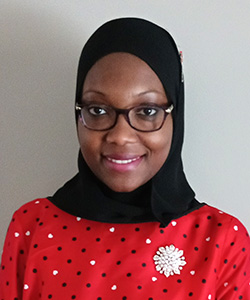 Sekinah Ajiboye
"The NNP program at UConn gives you the ability to maintain great school-work-life balance while providing a top-tier education that ensures that you are well prepared for your career as an NNP. The faculty have many years of experience and clinical expertise in neonatology which makes them excellent resources while in school and after graduation. My classmates were from all regions of the country (plus an international student) which was a great way to network and learn how patients are managed in different parts of the country and beyond." — Sekinah Ajiboye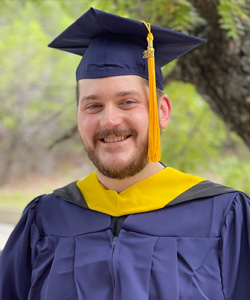 Brett Mendez
I completed most of my undergraduate education online, so I thought I knew what to expect prior to starting the online NNP program. However, I could tell UConn was different from my very first telephone meeting with the program director for the pre-entrance interview. The faculty were always so supportive and I truly feel as though I've made lifelong connections and professional relationships with all of my advisors and professors. The program was designed from the ground-up for busy, working professionals with lives, careers, and families. The curriculum and learning activities are unique in that they support group work and collaboration with the peers that you work with through the entire program, yet they foster your own growth as an individual student. I would definitely recommend UConn to anyone! Proud to be a part of the UConn alumni. Go Huskies! — Brett Mendez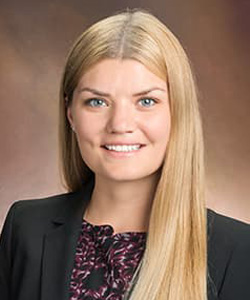 Melanie Gumina
The UConn NNP program provides a comprehensive curriculum with an individualized plan of study. An online curriculum allows for the flexibility to maintain a work-life balance, yet the program ensures a united student body through active discussions and group projects. The faculty is experienced and involved in the neonatal field on a local and national level, while maintaining an active role in your learning process and helping you achieve your career goals. — Melanie Gumina